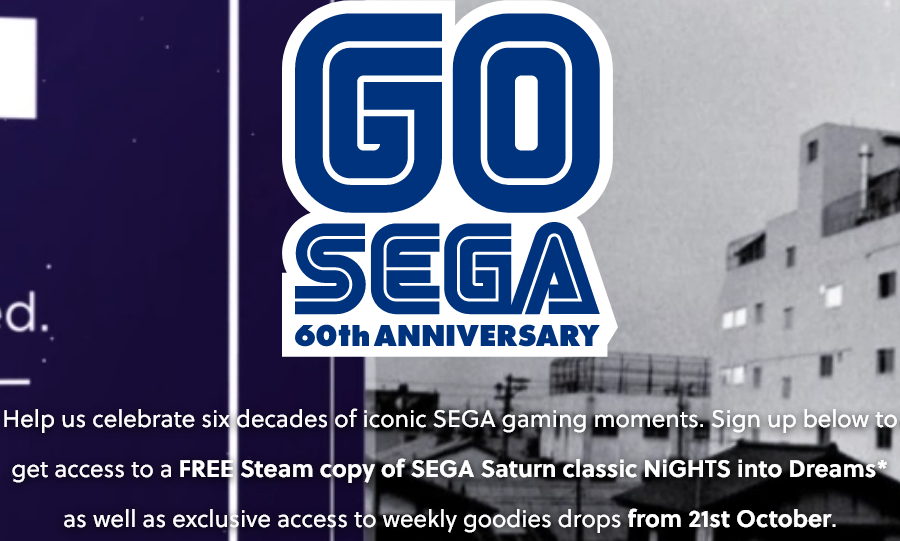 SEGA is taking over Steam for our 60th Celebration!
To kick off in blue blur style, we're giving away Sonic the Hedgehog 2 FREE on Steam all week from October 9th-18th!
While you're around, check out some of our new HIGHEST DISCOUNTS.
Grab our EXCLUSIVE FREE MINI-GAMES that we're giving away every day from October 15th – 18th.  These brand new games were created just for SEGA's 60th and are available for a LIMITED TIME ONLY. Once they're gone, they're gone. Be sure to come back every day to claim the daily mini-game!
We'll also be streaming to Steam classic content, interviews, let's plays, and more, as well as a few other surprises, so be sure to check in throughout the week and check us out on Steam.
We look forward to seeing you there and hope you enjoy celebrating 60 years of SEGA with us!
It's official! 2020 marks the 60th Anniversary of SEGA! It's been a long and winding road to get here, encompassing some of gaming's most iconic moments and scores of unforgettable games.
To celebrate, we will mark each of those years with a day of exciting content to give you, our players, an insiders' look at what has made SEGA what it is today. From 14th October - 13th December, we will share daily content drops including limited-time-only mini-games, a chance to get hands on with a prototype game we never released to the public alongside sales promotions, interviews and more!
Check out what's on in the calendar below and follow our SEGA Facebook and Twitter accounts for the latest. Also, be sure to sign up to our newsletter to claim your free copy of SEGA Saturn cult classic NiGHTS into dreams.
세가 60주년 이벤트입니다.
소닉에 이어 15~18일간 매일 미니 게임을 무료 제공합니다.
첫 번째로 NiGHTS into Dreams...입니다.
스팀 로그인을 통해 게임을 등록합니다.